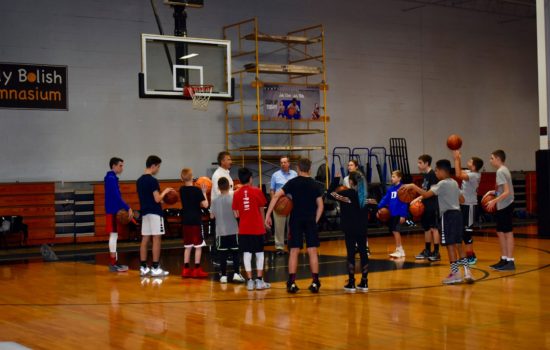 I was catching up with someone the other day, and we were talking about this past summer. I did some youth basketball shooting camps and clinics over the last few months, which I truly enjoy as I love working with kids. I was asked for my observations in youth basketball today.
It's a great question: what do I see in today's youth basketball players?
Bad habits. And more bad habits.
And it comes back the kids – both boys and girls – looking to emulate the very popular Steph Curry of Warriors fame. And why not emulate Curry? 2-time recognition as the league MVP, holder of 2 NBA titles, multiple time NBA All-Star, plus many, many other titles and recognitions – on paper he seems perfectly stellar.
But….let's look at how he plays the game. His movements are, quite frankly, terrible – they work for Curry but this is not the style that kids should emulate. Things he does like his one-arm turning shot are not to be imitated, as this will not make great players in the future.
So, what should kids do?
It's more like what should parents and coaches do.
It starts with both parents and youth coaches who are the first point of contact with our youth teams – both for boys and girls. Coaches – many of whom are parent volunteers! – need to explain what is good, bad, and indifferent with the player motions that kids see on TV, on video, or if they are lucky enough, in person.
Kids need to focus on good, solid foundation with effective, repeatable movements. Correct motions will lead to correct and accurate movements that is the foundation that young players need to become solid, contributing team players. Pretending to be an NBA superstar like Curry is troubling, and will lead to very bad (and hard to break) habits in the future.
Kids idolize pro players. Kids then look to mimic everything about them – from how they dress, to how they play. And we as adults know that there is plenty to NOT emulate with the pro players, and we need to convey this to kids.
So, my two goals are clear:
Make sure kids stop imitating Curry's movements, and instead learn and use the correct, effective, reliable movements for the game of basketball, especially shooting.
(Youth coaches, please help me out with this one.)
And this second goal may be a reach – I would love to work with Curry and fix how he shoots. I'd work with him on his movements, and on his technique – and then we would all watch him get even better.
I love working with youth teams, and would be happy to discuss with you the different options. Just give me a call or drop me a note.
Together, we can help ensure a solid foundation of reliable, repeatable movements are at the core of our youth basketball programs.